Karl-Egermann-Residences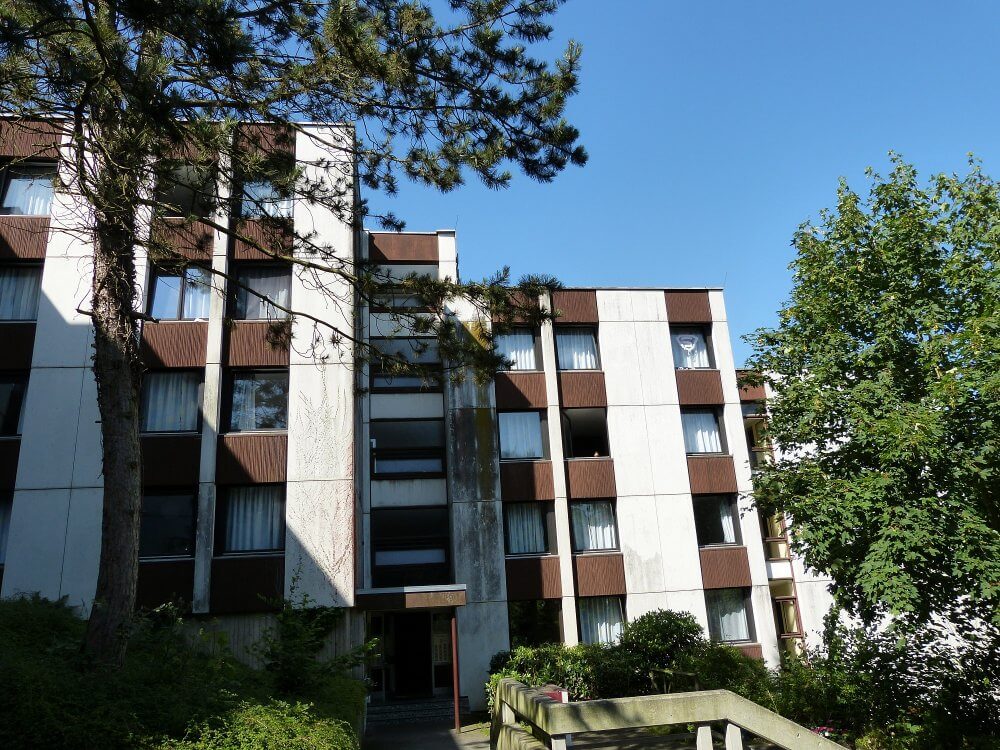 Fuchspaß 28, 32, 36
Fuchspaß 28, 32, 36
All in all 268 living spaces and 122 parking spaces
Construction year: 1976; renovation: 1993; modernisation: 1994/1995
House A: 94 single rooms
House B: 81 single rooms
House C: 93 single rooms
Rent: 213 €
Deposit: 170 €
Room sizes: 14 m²
Interesting Facts
In the summer of 1993, all three main houses underwent extensive renovations. The heating supply was switched from electricity to natural gas power, allowing for a more environmentally friendly energy supply to all buildings.
Rainwater is collected via the flat roofs, which then runs into a cistern. The rainwater flows out of the cistern and into the toilet tanks in house A, so that approx. 50% of the drinking water, which is often used to flush toilets, is saved.
Thanks to this technology, additional expenses have been reduced significantly.
Equipment:
All rooms are fully furnished
Cable connection incl. Internet
Telephone connection
Washbasin with cold and warm water in each room
Large communal kitchen on each floor
Shared sanitary facilities on each half of the floor
Bicycle cellar
Washing machine and dryer
Housekeeper House A
Frau Dörr
Telefon: +49 6421 1862940
Mobil: +49 152 09097462
wohnen@studentenwerk-marburg.de
Details
Housekeeper House B
Frau Klapp
Telefon: +49 6421 66928
Mobil: +49 152 09097463
wohnen@studentenwerk-marburg.de
Details