Mensa Lahnberge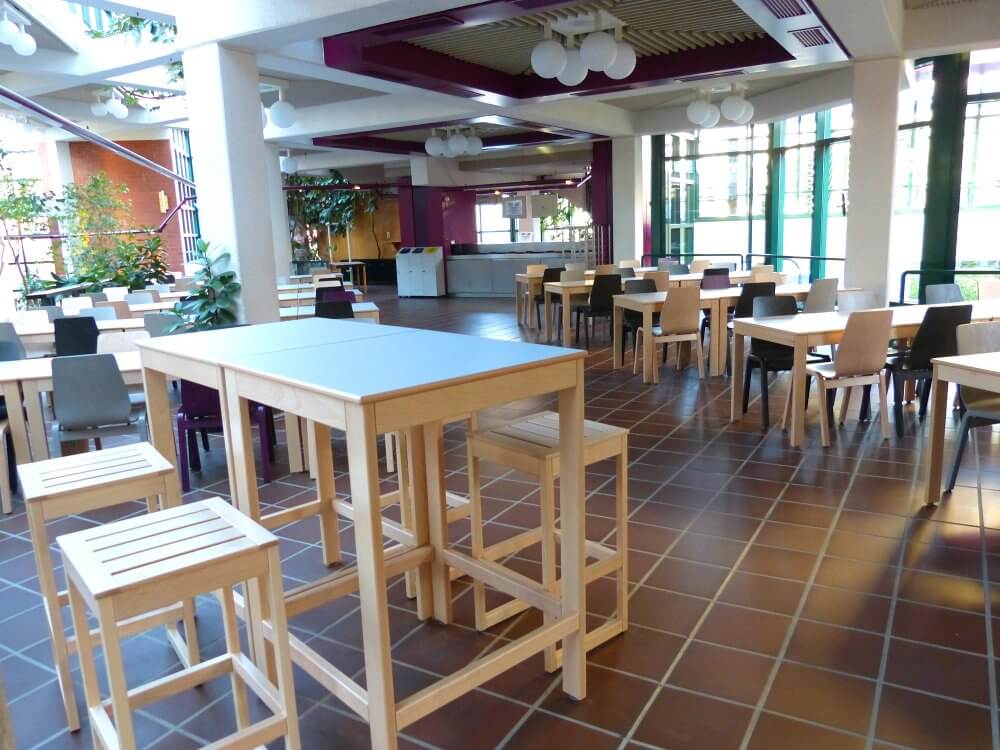 Our Mensa Lahnberge is located south of the clinical centre and is part of the student centre surrounded by forest. It is characterised by its transparent design which maximises the use of daylight, accentuating the unique interior green area space and the artistic decorations. The Mensa offers 580 seating places on different levels for dining in the green surroundings.
Times of meal service
Semester
Monday - Thursday: 11.30 a.m. - 2.15 p.m.
Friday: 11.30 a.m. - 2.00 p.m.
Semester break
Monday - Friday: 11.30 a.m. - 2.00 p.m.
Meals offered in the Mensa Lahnberge
In our meal service during the semester we offer four different menus to choose from: an inexpensive daily menu, a vegetarian or vegan menu (menu 2), a meal with either fish or meat (menu 1), and a lightweight Mensa Vital Line.
For side dishes we offer: soup, vegetables, starchy side dishes, salad, desert, fruit, milk shakes, and other cold refreshments.
Special offer counter:
At our special offer counter you can get regional and seasonal specialties and action menus. Here you can get some of the mensa classics such as bratwurst or schnitzel, or delicious burgers from our quality brand "Gutes aus Hessen" (Goods from Hessen). These menus change daily.