Mensa Erlenring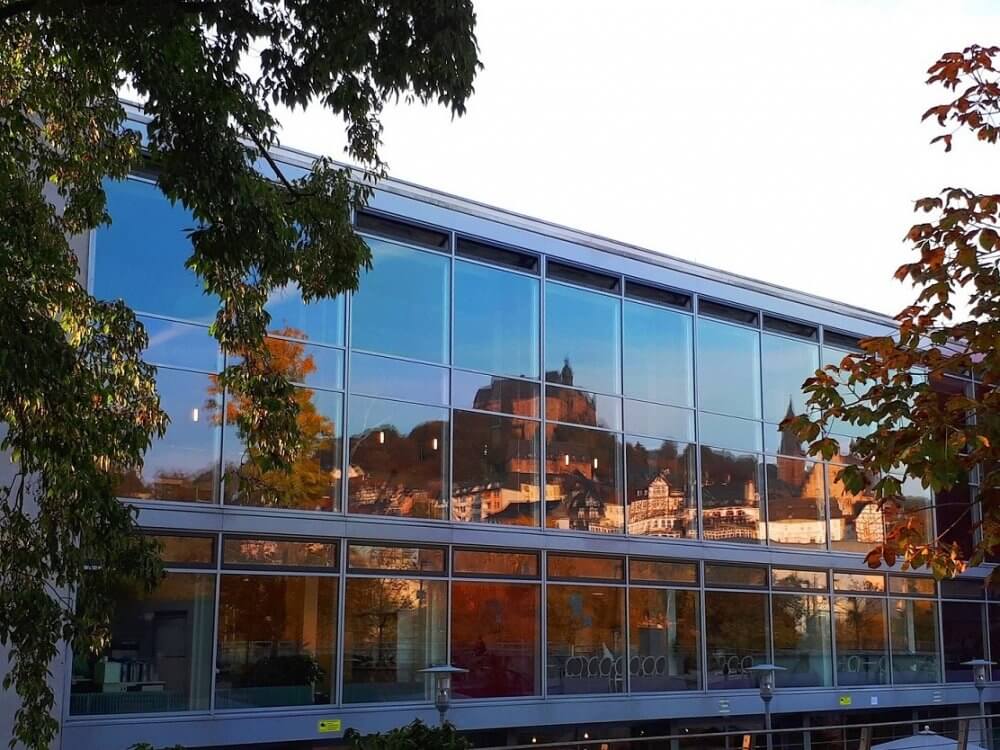 The Mensa Erlenring is centrally located in the Student house at Erlenring 5, close to the Phil-Fak (social science department), the University Library, and the main buildings of the university. This way the Mensa is easy for students and university employees to reach. The large dining hall seats more than 500 and is the central meeting point for Maburg students. Most popular are the 150 seating areas in the small dining area with a magnificent view of the castle and the old town.
Times of meal service
Semester
Monday - Thursday: 11.30 a.m. - 2.15 p.m.
Friday: 11.30 a.m. - 2.00 p.m.
On Saturdays the Mensa lunch menu is served in the Bistro (level 0) from 12.00 p.m. - 2.00 p.m.
Semester break
Monday - Friday: 12.00 p.m. - 2.00 p.m.
Meals offered in the Mensa Erlenring, Level 2
In our meal service on level 2 we offer a variety of dishes throughout the semester: an inexpensive daily special, a vegetarian or vegan menu (menu 2), one meal with fish or meat (menu 1) and our lightweight Mensa Vital Line.
With every menu comes three side dishes: soup, vegetables, starchy side dishes, salad, desert, fruit, milk shakes, or other cold refreshments.
Empore, level 3
On the Empore (gallery) we offer you regional and seasonal specialties. Here you can get some of the Mensa classics such as bratwurst or schnitzel, or delicious burgers from our quality brand "Gutes aus Hessen" (goods from Hessen). These menus change daily